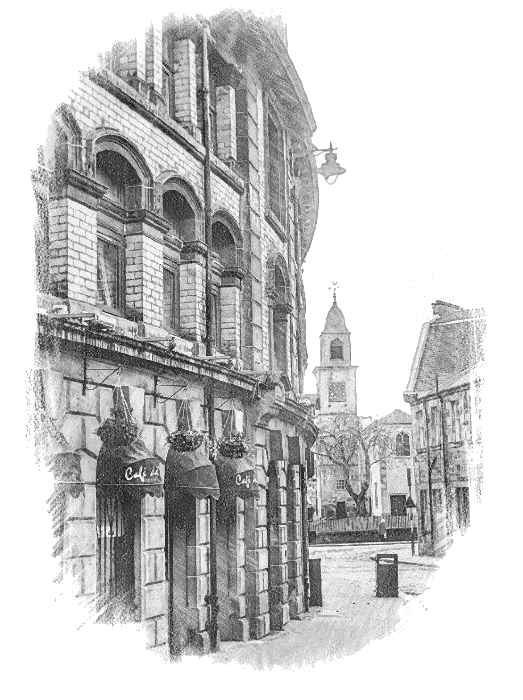 Kilmarnock, Ayrshire
Kilmarnock (Scots: Kilmaurnock; Scottish Gaelic: Cill Mheàrnaig) is a large town and former burgh in East Ayrshire, Scotland and is the administrative centre of East Ayrshire Council. With a population of 46,770, Kilmarnock is the 14th most populated settlement in Scotland and the largest town in Ayrshire. The town is continuous to nearby neighbouring villages Crookedholm and Hurlford to the east, and Kilmaurs to the west of the town. It includes former villages subsumed by the expansion of the town such as Bonnyton and new purpose built suburbs such as New Farm Loch. The town and the surrounding Greater Kilmarnock area is home to 32 listed buildings and structures designated by Historic Environment Scotland.
The River Irvine runs through the eastern section of Kilmarnock, and the Kilmarnock Water passes through it, giving rise to the name 'Bank Street'. The first collection of work by Scottish poet Robert Burns, Poems, Chiefly in the Scottish Dialect, was published in Kilmarnock in 1786 by John Wilson, printer and bookseller and became known as the Kilmarnock Edition. The internationally distributed whisky brand Johnnie Walker originated in the town in the 19th century and until 2012 was still bottled and packaged in the town at the Johnnie Walker Hill Street plant. Protest and backing from the Scottish Government took place in 2009, after Diageo, the owner of Johnnie Walker, announced plans to close the bottling plant in the town after 189 years.
Kilmarnock is home to Kilmarnock Academy, one of a small number of schools in the UK, and the only school in Scotland, to have educated several Nobel Prize Laureates – Sir Alexander Fleming, discoverer of Penicillin, and The 1st Baron Boyd-Orr, for his scientific research into nutrition and his work as the first Director-General of the United Nations Food and Agriculture Organization (FAO)
---
Click on the locations within the map to view the music composed for the area. Music is opened in a new tab.
---
You are most welcome to browse, download and play any of the compositions. All compositions remain copyright © John C Grant.
You can download all PDFs
here